Book: Remix Walls Mural Collection
Design Studio: Katie Hunt & A Street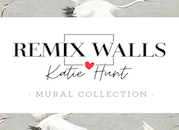 Click To See Entire Collection
Measures 12 ft 2 inches wide X 9 feet tall 
Mural installs in 7 Panels 20.9 inches wide each
Read more
Show less
Single vs Double Roll Bolt
Single Roll of Wallpaper vs A Bolt of Wallpaper
Packaging and Sizes
In most cases, wallpaper is only available to purchase in a 2 single roll bolt. (one double roll) The manufacturers package it this way and will not split a bolt into a single roll. In the interest of transparency and honesty, we price our wallpaper by the bolt. Each bolt of wallpaper contains 2 single rolls. The product details located towards the bottom of each product page give detailed information about the size of each bolt. If your installer says to buy 4 single rolls, you will need to put 2 bolts in your shopping cart. The minimum order is one roll or bolt.
Bolt Sizes
Width is measured in inches. Most widths will be either 20.5 or 27 inches wide. Length is measured in feet. Most bolts of wallpaper will be either 27 or 33 feet long.
Roll Coverage
The three most common bolt sizes and the corresponding square footage (width, length – respectively) are:
| | |
| --- | --- |
| 20.5 in. x 33 feet long | ( 2 roll bolt containing 56 sq ft ) |
| 27 in. x 27 feet long  | ( 2 roll bolt containing 60 sq ft ) |
| 36 in. x 24 feet long  | ( 2 roll bolt containing 72 sq ft ) |
We are happy to answer any questions you might have about your wallpaper purchase. Please contact us at 281-444-3691 or email us via the contact form if you need further assistance.
This elegant enchanted forest wall mural adds a touch of wonder to your interiors. The thin, winding trees are artistically drawn in white against a denim blue background. This reimagined design is exclusive to the REMIX Walls by Katie Hunt x A-Street Prints collection. Storybook Forest Denim Blue Wall Mural comes on 7 panels and measures 12-ft 2-in (wide) x 9-ft (high) when assembled.
Data sheet
Prepasted

No
Substrate

Printed on Non Woven Material
Width:

146 Inches
Height:

108 Inches