Book: E-Z Contract 47
Design Studio: Patton Wallcoverings
Type I - 15 Oz. Commercial Vinyl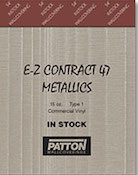 CLICK TO SEE ENTIRE COLLECTION

This wallcovering is sold by the yard 54 inches wide. It is packaged in 30 yard bolts.
Minimum order is 30 yards. It is only sold in full bolts only. It must be ordered in increments of 30 yards.
 Order a sample for color match, if needed, for $4.99- Free Shipping.
Read more
Show less
Single vs Double Roll Bolt
Single Roll of Wallpaper vs A Bolt of Wallpaper
Packaging and Sizes
In most cases, wallpaper is only available to purchase in a 2 single roll bolt. (one double roll) The manufacturers package it this way and will not split a bolt into a single roll. In the interest of transparency and honesty, we price our wallpaper by the bolt. Each bolt of wallpaper contains 2 single rolls. The product details located towards the bottom of each product page give detailed information about the size of each bolt. If your installer says to buy 4 single rolls, you will need to put 2 bolts in your shopping cart. The minimum order is one roll or bolt.
Bolt Sizes
Width is measured in inches. Most widths will be either 20.5 or 27 inches wide. Length is measured in feet. Most bolts of wallpaper will be either 27 or 33 feet long.
Roll Coverage
The three most common bolt sizes and the corresponding square footage (width, length – respectively) are:
| | |
| --- | --- |
| 20.5 in. x 33 feet long | ( 2 roll bolt containing 56 sq ft ) |
| 27 in. x 27 feet long  | ( 2 roll bolt containing 60 sq ft ) |
| 36 in. x 24 feet long  | ( 2 roll bolt containing 72 sq ft ) |
We are happy to answer any questions you might have about your wallpaper purchase. Please contact us at 281-444-3691 or email us via the contact form if you need further assistance.
Textured wallpaper printed on 15 oz. commercial vinyl are presented in our EZ Contract 47 Metallics collection. This collection presents designs such as weaves, grasscloths, fine linens, Japanese papers, marbling effects and small textures that will surely enliven your space with durability, tranquility and beauty. Also, the use of any of these wallpapers will create detail, conceal wear and tear and make a visual statement. It features hues that range from metallics to warm neutrals, blues and greens that can transform your environment with colour, interest and energy all in one.
Data sheet
Width

54 Inches
Pattern Repeat

None
Pattern Match

Random / Reversible
Prepasted

No
Substrate

Fabric Backed Commercial Vinyl - Type I - 15 OZ.
Bolt Size

30 Yards - Each 30 yard bolt contains 405 square feet